STAND AND SEE ANEW - MAY 11, 2014 - MOTHER'S DAY - 1 pm
Learn how to see. Realize that everything connects to everything else.
--Leonard Da Vinci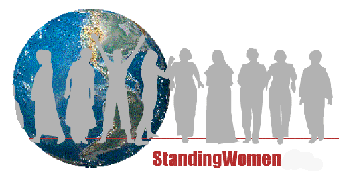 Please join us...
To stand with women all over the world on Sunday May 11, 2014, 1 pm local time
In 5 minutes of silence to envision a positive future for our children.

Tell us where you will stand.
See where others will be standing.
For 7 years Standing Women has been an invitation to unite behind a dream...
the dream of a world that is alive with love and possibility for every child.
In our standing, we have participated in a collective dreaming that is centuries old,
that builds upon every mother's feeling for her child,
that reaches beyond the animal in us into new possibilities of being human.
And we have claimed this dream for the whole world, for every child.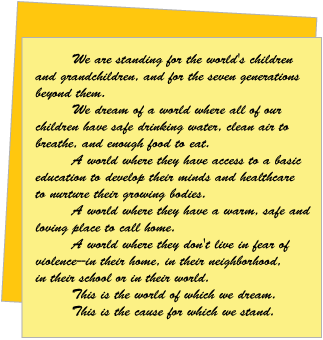 In this 8th year of standing together, it seems clear that the dream is substantial and widespread across the globe. Yet, despite the steps of so many good people, the old dream still dominates our awareness. Can we perhaps begin to see and confirm the shoots of something new growing in its midst... to see through new eyes?
Please join us on Sunday May 11, 2014 at 1 pm local time
for 5 minutes of silence and global unity,
inviting our eyes to be opened beyond the problems,
to see the interconnectedness that is already here, the fabric of our dream coming true.
Post your standing and connect with others at www.StandingWomen.net.