STANDING TOGETHER - MAY 11, 2014 - MOTHER'S DAY - 1 pm
With deep appreciation for one another and our collective dreaming...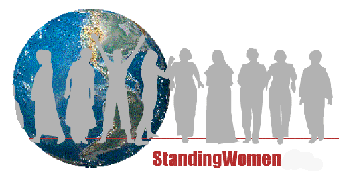 Please join us...
To stand with women all over the world on Sunday May 11, 2014, 1 pm local time
In 5 minutes of silence to envision a positive future for our children.

See where others will be standing,
and send an email of appreciation to those whose words call to you.
In 2007 on what is Mother's Day in many countries,
there was an extraordinary planetary-wide response to Standing Women's invitation.
4663 events in 81 countries were registered on the Standing Women website,
representing tens of thousands of participants.
People stood alone, with family, at planned events, at work and at home,
traveling, in nature and in houses of worship, to envision a better world.
Many reported that they felt a deep sense of global unity.
Since the 2007 event, many people have been inspired to take a personal moment
every Mother's Day to dream a positive future for the world's children.
Now, after 7 years of standing, a new cycle is beginning...
Once again on the www.StandingWomen.net website,
please tell us where you will 'stand' in unity for the children, AND
also please take a moment to acknowledge others who are standing
with an email of appreciation as you feel called.
In this simple way, together we ground our inner unity, email by email,
weaving connections of appreciation into our world.
THE DREAM OF STANDING WOMEN...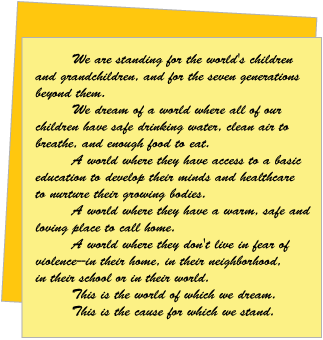 Please join us on Sunday May 11, 2014 at 1 pm local time
for 5 minutes of silence and connection.
Post your standing and co-create a weave of appreciation for others standing at www.StandingWomen.net.