"Sufism proposes that there is a knowledge of love, that it desperately needs to be shared, and that in fact no knowledge is more valuable and essential….If love is the essential power within this universe and within ourselves, no subject has greater precedence. It may be that failure in any field is essentially a failure of love." Kabir Helminski, 'Sufism, A Path to Human Wholeness'
The Inner West, An Introduction to the Hidden Wisdom of the West - Jay Kinney, editor

This network is hosted by LightPages for Dawn's Early Light.
You are currently viewing this page as a member of the public, not signed in.
Additional details for Dawn's Early Light are available to signed in users.

ABOUT DAWN'S EARLY LIGHT
We believe we are experiencing the emergence across the USA and the world of a new "wisdom culture", which is growing in strength and authenticity, and represents a powerful positive force for social transformation and cultural health. One driving force in this change is the process of globalization, which tends to universalize values and dissolve cultural boundaries.

These emerging new cultural forces have been affecting the psychology and world view of individuals for many years, and are now beginning to coalesce as a political force. This new politics is gathering around several core concepts, including "transpartisan" and "integral" approaches to community and collective decision-making, and incorporates emerging new perspectives on universal spirituality.

This "Dawn's Early Light" network is developing an initial gathering of concepts and resources that could be brought together in a workbook on transpartisan and integral politics, introducing the major ideas in a form intended to support creative discussions and further development. The larger objective is the development of a national network process intended to bring these ideas into focus through the collaboration of many participants.

******

As of today, November 4, 2008 (national election day in the USA), we are just beginning this project. This "matrix on integral politics" was created this morning, as one point of view on the question "What is Integral Politics?" -- and might even lead towards the claim that "Integral Politics IS Transpartisan Politics" -- that they are inherently the same thing....

Click this image to see in larger format.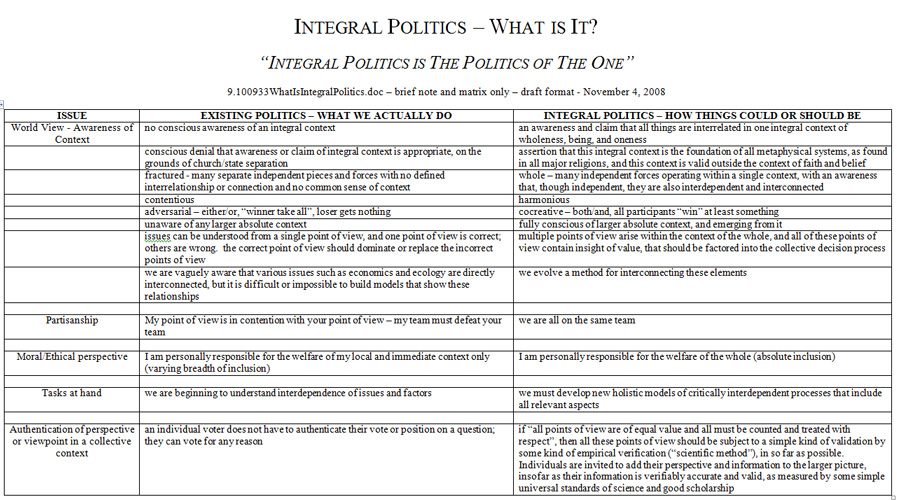 About Dawn's Early Light
About LightPages | Networks | Help | Privacy Policy | Contact Us